Smog Test


We are proud to be a California STAR Certified smog test only facility. We perform smog tests to the strict emission guidelines to ensure that your vehicle complies with California laws. Additionally, once you pass the smog test, we could renew your vehicle registration on-site!
Rest assured, if your vehicle does not pass the smog test, your re-test is FREE! (See Promotions for details.)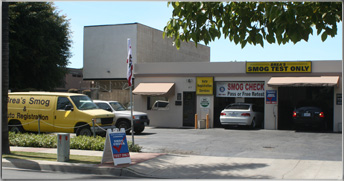 Auto Registration


Why wait in the long lines at the DMV when you could perform your vehicle registration service with us! We are certified by the California DMV to provide the following services, instantly, usually within few minutes!
Let us perform your smog test and renew your registration, all at one location. Selling your car? We could file your title transfer too, on-site! Misplaced your license plate sticker? Come on by and get another one now; we promise the wait will be significantly shorter than at your nearest DMV.
Did you move from another state? Now, we offer DMV registration services for out-of-state vehicles! We can provide CA registration services as well as issue a plate, on-site!
Vehicle Registation Renewal
Sticker Replacement
License Plate Replacement
Title Transfer
Have questions? Please visit our FAQ page or call us at 714-529-5400.